What is Breathable Roofing Membrane?
Breathable membrane helps offset issues with condensation build-up and water damage through the roof. By allowing as much condensation to escape as possible, the underlying structure remains dry and prevents a myriad of issues. The average house can produce up to several litres of water per day through moisture alone. Essentially a warm house combined with a cold atmosphere outside can increase moisture build-up. This is why it is essential to protect the timber roofing frame of your property.
A build-up of moisture can cause a lot of issues such as:
Mould formation with the potential effect of health issues
Damp problems can weaken timber and cause unpleasant smells
Weakening of timber can cause expensive structural issues in the long run
Reduction in the performance of insulation can result in more expensive heating bills
There are different types of roofing membrane and the two key types to choose from are either breathable or non-breathable.
Breathable Roofing Membrane vs Non-Breathable Roofing Membrane
Roofing membrane comes in many shapes and sizes and different types and sub-types. Typically it is supplied in rolls varying from 1m wide to 1.5m wide. Choosing the right roofing membrane is important to not only protect the structure of your house but also ensure your property is as efficient at managing condensation as possible.
Here we take a look at the core difference between the two most common types of membrane:
Can let both water vapour and air through
Completely waterproof
Adequate air space is required to ensure moisture can evapourate
Highly efficient in allowing condensation to escape
Suitable for warm roof structures with no existing roof ventilation, although it should not be used as the only form of ventilation in accordance with BS5250.
Very popular and used on a lot of new build properties
Non-Breathable Roofing Membrane
Is not porous, creates a vapour barrier
Suitable for cold roofs where existing ventilation already exists (typically eaves and ridge vents)
Blocks almost all moisture transfer
Condensation cannot escape as efficiently as breather membrane
Still used, but not as popular as the breathable equivalent
Ventilation is essential to allow condensation to escape
It is important to remember to select a membrane suitable for your wind zone as specified by BS5534. Our breathable membranes are UV resistant for up to 3 months, available in different thicknesses to ensure suitability for different wind zones, does not need replacing regularly and is tear-resistant.
Wind Uplift Pressure
250mm Batten Gauge (batten restrained lap)
345mm Batten Gauge (taped lap)
250mm Batten Gauge (taped lap)
Zones 1 to 2
Zones 1 to 2
Zones 1 to 5
Zones 1 to 3
Zones 1 to 3
Zones 1 to 5
Zones 1 to 3
Zones 1 to 4
Zones 1 to 5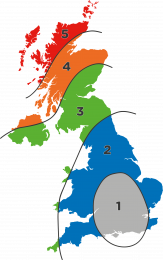 Not sure how many rolls you need? Head over to our roofing membrane calculator for an estimate.