Breathable roofing membrane is used to form a water barrier in the construction on pitched roofs. This effective solution helps prevent damp, mould and even timber rot to prevent the weakening and other associated problems within the roof structure itself. Breathable roofing membrane is also resilient to snow, frost and wind and so is essential in the UK due to our seasonal weather.

Breathable roofing membrane works in a very similar way to limecrete on floor construction. Moisture can escape through the porous construction of the material, easing condensation and keeping the roof dry. Non-breathable roofing membrane works more like a DPM, stopping moisture altogether getting through and essentially blocking any water ingress. However, non-breathable roofing membrane requires tile ventilation to allow moisture to escape, whereas it's breathable counterpart has this function integrated into it through a permeable construction.
Similar to air bricks in houses to allow moisture to escape, ventilation should still be used with breathable roofing membrane. This is because far more moisture is allowed through breathable membrane than non-breathable, meaning that increased airflow is recommended for the most effective solution.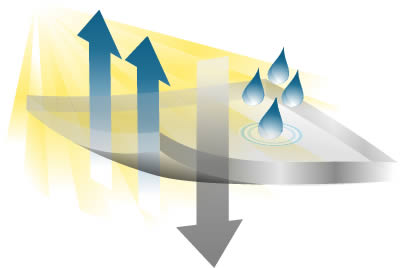 Roofing membrane is installed on the 'cold side' of the roof, that is the side that is nearest to the roof tiles. This works as the first line of protection against the elements, preventing moisture from getting into the structure of the building.
Breathable roofing membrane allows moisture to escape in the form of water vapour, essentially allowing air and water to move within the layer provides an exit for condensation. It is designed to reduce the needs for roof tile ventilation, although it is still a good idea to include some tile vents to assist with any excess condensation if there is too much for the roofing membrane to disperse.
Non-breathable roofing membrane is recommended for cold roofs that have ventilation, whereas the more modern and popular breathable membrane is ideal for warm roofs with good ventilation.
Our Breathable membranes come with following specifications for a wide variety of applications. This may be dependent on roof characteristics such as:
Wind exposure
Degree of condensation
Ventilation
Drainage
We supply three different varieties, all BBA approved, including: