Adding a deck to your garden is a fantastic way to create variety and make a great visual impact. Not only does it look attractive, it is also a practical accompaniment to your lawn, serving as an excellent place to host a summer barbecue or indulge in a little solitary reading.
Once you have decided to install decking, the next step is to consider what type of decking you would like. Understanding the different types of composite decking available is an important task before you make any decisions, which is why we have put together a list de-mystifying the jargon to help you make your decision.
There are two types of composite decking boards, capped and uncapped. As composite decking has developed over time, the capped versions have become much more popular as manufacturers are able to create varied wood grain patterns and subtle streaking, that reflects the beauty of natural and exotic hardwoods, whilst retaining the low maintenance benefits of composite decking to provide better options for consumers.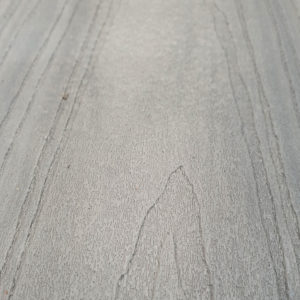 Solid decking is made from a mix of recycled wood fibres and recycled plastic, giving the product its extra strength and durability. It is also highly efficient at absorbing sound, unlike its hollow counterpart.
Composite decking is a more expensive initial purchase than timber decking. However, due to the low amount of maintenance required, the overall cost quickly becomes competitive. A regular wash with mild soapy water or a jet wash will keep the deck area nice and clean and enhance its already long life span.
Composite decking does not need sanding, staining or sealing. Unlike other decking options, composite decking will never rot, splinter or crack which means it is very unlikely the boards will need replacing.
Due to the solid composition of these decking boards, installation may be a little more difficult for one person on their own. However, this can be easily overcome by teaming up with someone else to get the job done.
The finish you get with this superior solid composite decking is incomparable with the other options. Check out the following video by Fiberon, explaining more about how to choose the right composite decking:
Hollow composite decking
Hollow decking includes almost all the benefits of solid composite decking. One main difference against the solid deck boards, is that these boards are hollow inside, making them lighter in weight and easy to install as they are easier to carry. Another difference is, where solid composite decking expands and contracts with heat and rain, hollow boards only react slightly.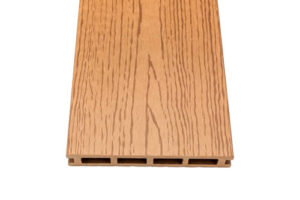 There is currently a huge market for hollow composite decking, as this is a cheaper alternative to solid composite decking; however it must be noted that hollow composite decking boards are not as durable as their solid counterparts and are known to wear out or even bow and crack over time because of their poor structural stability.
It is important that hollow composite decking boards are installed with some sort of closure on the end of their boards, such as an end cap to prevent water and insects getting inside the boards. If this is not done correctly, it can cause problems over time and the boards can become damaged.
Softwood timber decking
Softwood decking was used traditionally for decking installations before consumers had so many alternative options. It is sourced from faster growing trees, such as Pine trees that can be replaced easily, which is why prices appear much more appealing. It is still the most popular choice for those looking to create a deck space on a smaller budget.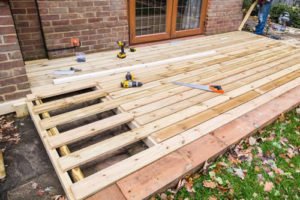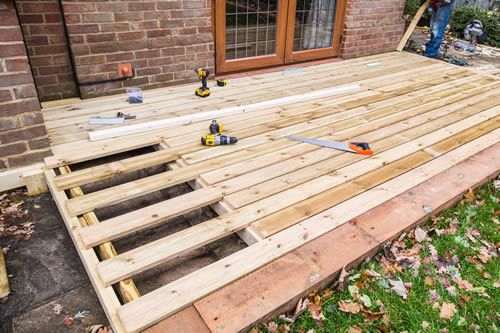 Just like composite decking, softwood decking has also developed over time and the quality of the boards have improved, along with the way they look. The boards are now industrially pressured-treated and include a protective coating that penetrates right into the grain, to help protect against any insects.
Softwood timber decking is extremely cost effective in the short term; however the cost of maintenance is ongoing.
Once installed, your deck will regularly require, sanding, staining and sealing. It is likely (in due course) you may notice the boards starting to crack and warp. If they are not maintained well and they may need to be replaced. The wet British weather means mould and mildew are an unavoidable annoyance of owning softwood decking. It can often grow and stain the decking boards. To help prevent this, the boards will need to be cleaned on a regular basis.
Consequently, you may be paying less for your decking project initially, but once all these factors are considered, softwood timber decking can be very costly and time-consuming to maintain in the long run.
One main benefit of going for softwood timber deck would be that the boards can be altered and stained, painted or oiled to a colour that suits you.
Hardwood timber decking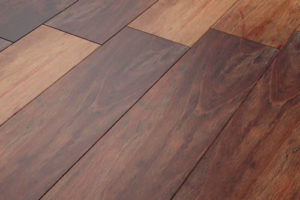 Hardwood decking is derived from exotic wood such as Ipe and Teak, whose trees grow more slowly and are much harder to process than softwood alternatives. This is reflected in the price of the hardwood decking as the source wood is far more expensive to source.
Hardwoods are a more durable option to softwood decking, they are also naturally resistant to insects and rot. The boards do not require a lot of maintenance and if they are well looked after, the decking will have a longer life span than softwood decking. Look after your hardwood timber decking by giving the area a good brush with a stiff broom and cleaner or mild soapy water once or twice a year, although not always required (as hardwoods are naturally water repellent), you can also oil your decking once every year or so.
Fiberon composite decking


We offer a complete range of solid composite decking boards at Fix Direct, including Horizon, Sanctuary and Xtreme Advantage. We also have a variety of colours from Castle Grey, Teak and Espresso in both 2.44m and 3.66m board lengths. Our Fiberon boards come with a 25 year residential stain and fade warranty.
Don't forget to use our hidden fasteners and board starter screws for a seamless finish on your decking project.
Complete the look with our high quality composite balustrade, to provide added safety for the whole of your family.
Check out our composite decking clearance, to grab yourself a great bargain on our solid composite decking boards.