Composite decking is generally known to be more expensive than its wood/timber counterpart, partly because it costs more to manufacture and process. However, due to requiring far less maintenance and lasting longer, this initial outlay can often be recouped across the period of ownership.
Below we look into some great ways of how to get your hands on some cheap composite decking for less than you might think and reduce your up-front costs even more, making your initial purchase very competitive.
Where Can I Buy Cheap Composite Decking?
Here at Fix Direct, we often have various quantities of composite decking clearance boards left over from either end of line products or odd amounts that we need to sell quickly to make way for the next delivery of stock. This is where you can save money and get exactly the same decking board as the full price offerings.
The key is of course to ensure that you purchase enough boards for your project. You can easily find this out by using our online composite decking calculator to calculate exactly how many decking boards you might need for your project. If there are enough available in our clearance section – you can make a great saving!
Check out the following examples of some top discounts on in our current composite decking sale, we have in stock to buy online right now:
Make The Most Of The Sales!
Another great way to buy composite decking at bargain prices is to regularly check FixDirect.co.uk for seasonal sales. We often discount products at the end of a season, around October or November time. Just checkout our clearance and composite decking sale page for the latest composite decking ranges we have on offer.
We also publish discounts and voucher codes throughout the year that can really help you get your hands on some high quality composite decking – on the cheap! Remember it's not just Bank Holidays and end of the summer season – check back regularly and look out for discount codes.
To get further reductions on your online order, you can always select an economy delivery to save even more. Composite decking is a large and heavy item, so you can save on shipping costs by selecting a longer delivery time.
Next day is of course more expensive than economy, but economy will still ensure you get your deck boards delivered within a week (in the UK). So:
Find your favourite decking style on the clearance page
Add the quantity required to your basket
Go to checkout and select 'economy'
Sit back while we prepare your order and dispatch your cheap composite decking!
Make sure you use our convenient decking calculator to find out the number of lengths you need for your project. By ordering the right amount, you then only pay for what you need, help the environment by eliminating wastage and save money too. See below for a quick way to measure up your new decking area: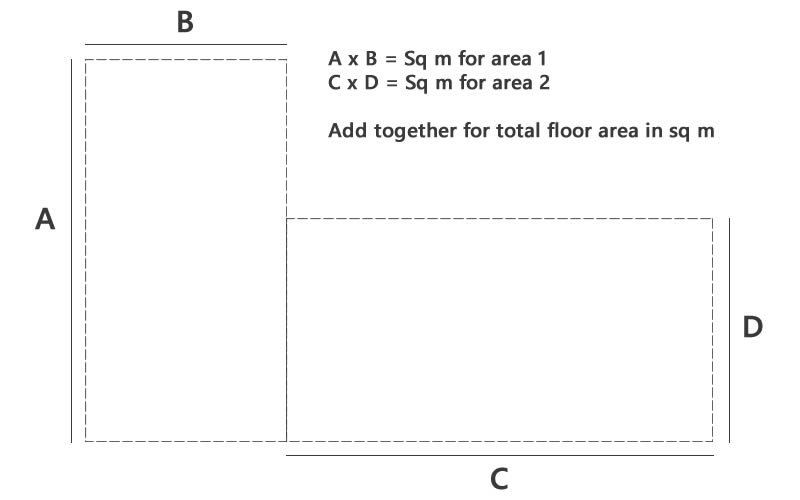 Buy Accessories At The Same Time
If you are building a new decking area and looking to buy your boards online, it pays to buy the accessories such as starter screws and hidden fasteners at the same time. By ordering together, you can save on additional delivery costs, because we ship these on the same pallet as your decking! No need to do anything different at checkout – our site will automatically calculate the cheapest delivery costs for you.
So there you have it, some useful tips and tricks on how to save money when buying composite decking online and not having to compromise on quality. Remember, all our decking is solid, low maintenance and comes with a stain and fade warranty of up to 25 years, meaning you can enjoy your composite decking for a long time to come – hassle free!
Don't Forget The Rest Of The House!
FixDirect.co.uk also supply a range of breathable roofing membrane, ideal for sheds, outbuildings and for new build or replacement projects.
We also stock a range of fixings and fasteners for gutterings, fascias, windows and general maintenance including concrete and multi-purpose screws.