There are a vast variety of screws and fixings available, all with subtle differences in relation to the application they are designed for. Here, we go through some of the most popular types, specifications and intended use to help you make a decision about which fixing or screw is ideal for your project.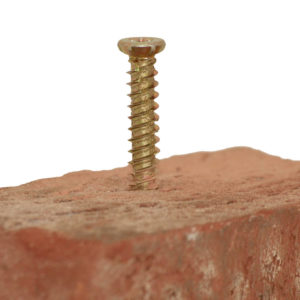 When screwing into concrete, it is essential that the screw is strong enough to withstand friction during the process of screwing the fixing into your material. Zinc is an ideal property to increase strength and has protective qualities including being rust-resistant, provides a basic barrier against corrosion and has impressive qualities against impact.
Combining the right material with a deep thread ensures that the screw can cut into the concrete known as a self-threading process and fix tightly to the concrete. Fix Direct provide hardened, yellow, passivated zinc concrete screws with a deep thread, ensuring that no plug is required, saving time and money. Just drill a pilot hole and insert the screw directly into the material.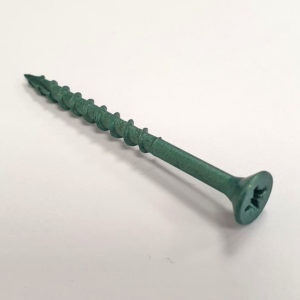 When it comes to wood, multiple materials can be used depending on the application. There is of course a difference if the project is internal or external, so let's take a look at the various screw types for external use and what fixing is best for your outdoor project:
When it comes to external projects, it is important to ensure the screw can withstand the elements. Some of the best screw materials include:
1) Zinc Wood Screws
– More prone to rust unless coated or galvanized
– Different grades are available
– Yellow zinc reduces corrosion and increases protection
– Passivated screws offer even further protection
2) Stainless Steel Wood Screws
– Ideal for standard outdoor use for a variety of applications
– More Expensive than steel-coated
– Versatile & protects against corrosion
– Variety of grades available
3) Silicon Bronze Screws
– Very resistant to water corrosion
– Ideal for marine or submerged vehicles/structures
– Expensive
– Mainly made from bronze with a small amount of added silicon
4) Decking Screws
– Anti-rust coatings
– Hard-wearing for external applications
– Usually made from steel, bronze or copper
– Larger load weight capacity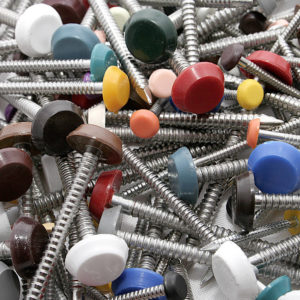 Pins and nails come in a variety of materials, similar to that of the wood/timber screws. The usage of each varies wildly and here at FixDirect.co.uk, our selection of pins and nails are specifically designed for use within:
Rooflines
uPVC windows
Fascias & Soffits
Signage
Due to the outdoor elements, it is important that the pins and nails do not rust. To ensure longevity, our POLYTOPS® pins & nails are manufactured from A4 marine grade stainless steel. There are two commonly used grades of stainless steel:
A4 is marine grade and can protect even against saltwater. Although A2 stainless steel has naturally anti-corrosive properties, the outer coating can be broken down in harsh weather and saltwater. Hence, when choosing pins and nails for uPVC windows and exposed fascias and signage, A4 marine grade stainless steel is the ideal material in all weather.
If you are interested in purchasing from a wide variety of high-quality fixings for your project, take a look at our great range of fixings >>